---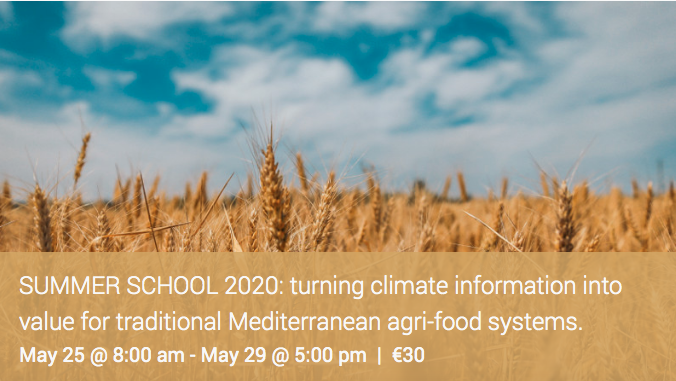 Events / News
LOCATION: Cagliari, Italy      DATE: 25-29 May 2020
Climate services development requires a different approach for the interaction between users and providers of climate information. The aim of the MED-GOLD Summer School is to co-produce prototype climate services with local and regional end-users. A hands-on approach will be used and suitable protocols for the co-development established.
The MED-GOLD summer school is a one-week event dedicated to early career scientists and professionals in a range of areas including climate science, agriculture, economy, social sciences and communication. Representatives of the public and private sectors with an interest in climate related issues from seasonal to longer time scales are also welcome.
The school is organized around lectures and hands-on working sessions. Participants will work together in small interdisciplinary groups throughout the week to develop specific climate services prototypes taking advantage of the lessons learnt and the innovative tools developed in the most recent European initiatives.
The students will also become familiar with climate data and tools made available through the Copernicus Climate Data Store (CDS).
More information about the course and the on-line application form can be found at: https://www.med-gold.eu/event/summer-school-2020-turning-climate-information-into-value-for-traditional-mediterranean-agri-food-systems/
Deadline: 23 March 2020
(Registration will be online on 21 February 2020)
Venue: Hostel Marina, Scalette S. Sepolcro, Cagliari, Italy
Contact: MED-GOLD_summerschool2020@beetobit.com 
Registration fee (to be paid only once the registration has been confirmed by the Organizers): 30 €
The maximum number of participants is 25.
Participants are responsible for their own travel and accommodation costs. This fee includes:
Five days of lectures from interdisciplinary experts and hands-on practicals
Five Ticket Lunches for the days of school