---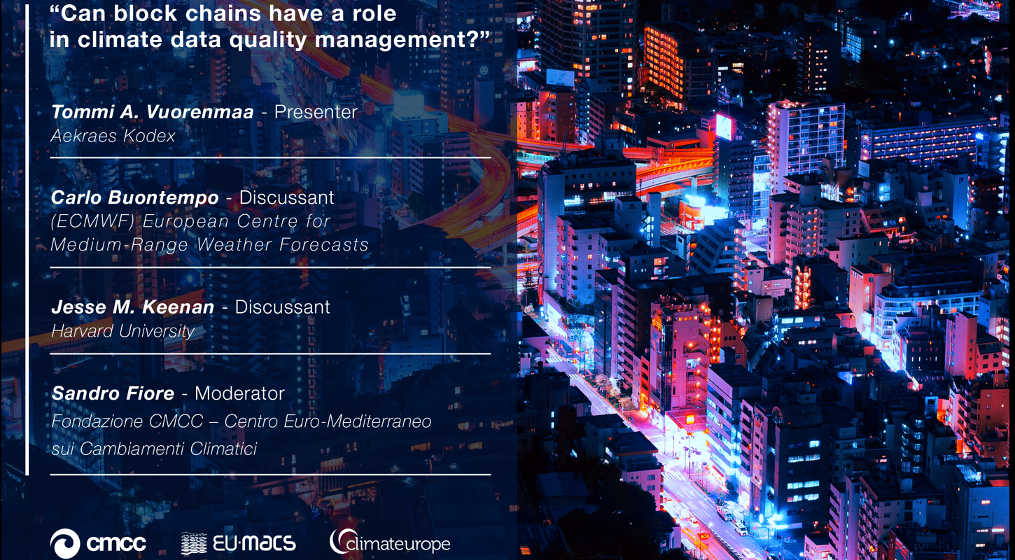 News / Slider / Webinars
Video, summary, and presentations.
The Webinar took place on Wednesday 16 May 2018.
---
Can block chains have a role in climate data quality management?
Summary of the Talk
Tommi A. Vuorenmaa, the Co-Founder and CEO of Aekraes Kodex in Helsinki, provides for an informative presentation on block chains, illustrating their nature, functions, risks and benefits, and providing some thoughts on the application in the field of climate data services.
For national and international climate data services it is quite a challenge to generate transparent complete and nevertheless compact information on the quality of datasets and their suitable application domains. Tommi A. Vuorenmaa explains that blockchain technology is a different kind of peer-to-peer network that offers a better service than conventional centralized or decentralized distributed databases since it is wider and accessible to a larger number of servers. Nevertheless, it also allows to add in only the data that the users want and trust to share with the network. Moreover, Dr. Vuorenmaa specifies that a wide range of different kind of blockchain systems is available and that, currently, blockchains are not thought to be the direct substitutes, but rather parallel systems to the conventional ones, offering numerous advantages. For example, they could be employed in integrated intelligence systems and shared economy, as well as instruments to achieve self-governing ecosystems. Data quality, transparency and trust are the three fundamental principles at the basis of the blockchain technology. In other words, block chains can provide for long-term, high-quality and reliable data in every field of application, therefore helping not just in having a broader network of data but also in fighting corruption and spreading democracy. As regards the application of blockchains in the climate change scientific field, Dr. Vuorenmaa believes that they will allow for a wide, shared literature on climate, that with the conventional methods would "remain blocked" in separated servers in distant parts of the world. Therefore, expanding the network of climate data, will allow a better understanding of various phenomena and more accurate predictions and actions of risk management and monitoring. Finally, the speaker stresses the usability and easiness of connecting to such an outsource database and gives insights on the present and future challenges of the system, such as how to maintain the system democratic and accessible to everyone and how to manage its energy consumption.
Question to the first talk:
How would the blockchain technology be much more secure with respect to the normal mirroring typically done in the climate community?
Do citizen science and data gathering contribute to current climate data and does blockchain technology play a role in citizen science or could it play a role in the future?
Is there an upper-limit in the size of data that can be shared in the blockchain?
Do or will blockchains play a role in the climate data?
Download the presentation (pdf – 1 MB)
---
Watch the full video of the webinar