---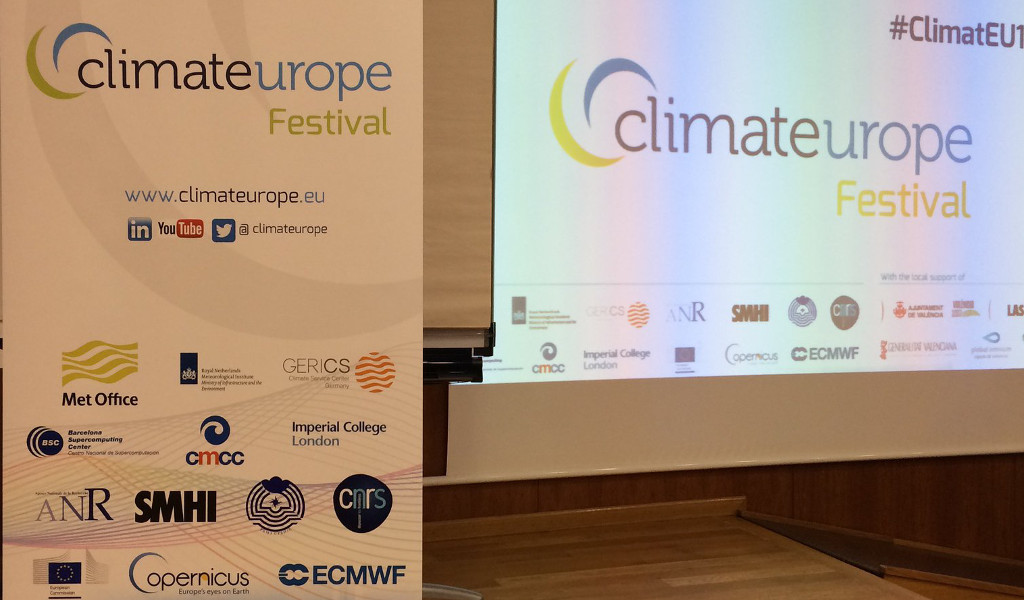 Events / Festival / News
The first Climateurope festival took place from 5 to 7 April 2017 in Valencia and was organized by the Climate Service Center Germany (GERICS) together with the partners of the Climateurope project.
The key objective of the first Festival was to discuss the advantages and challenges that climate services face within the sectors of water, ecosystems, food production and food security.
Over 100 participants from 17 European countries and Canada attended the first Climateurope Festival 2017. This event brought together scientific community, users and providers of climate services and funding bodies. The world leading international water and wastewater company SUEZ together with a number of innovative small and medium-sized enterprises and start-ups were invited to make their business-case in climate services visible.
The Festival applied different formats from traditional frontal impulse talks to innovative interactive sessions, e.g. a storytelling session, speed networking and a market place.
This gave the participants the opportunity to share their experience and knowledge on how climate services are already being offered successfully and identify the needs for improvement, in order to make the provision of climate services more efficiently. Speed networking facilitated cooperation between different European projects and initiatives. The session at Valencia's Albufera Natural Park gave the valuable insights into ecosystem services.
Two creative and inspiring presentations highlighted how to tell the story of climate change visually and how to give a talk that will be remembered. They aimed at helping the scientists to improve the methods of the scientific results dissemination.
At Climate Snack a few relevant talks on latest research were delivered. They dealt with a particular "crop" or "food ingredient" that might be affected by climate change and for the production of which might become challenging.
We are convinced that the first Climateurope Festival has created new networks and inspired existing ones to support climate services at the European and national levels.